Innovate . Invest . Incubate
Millennium Engineering Corporation Limited
About Us: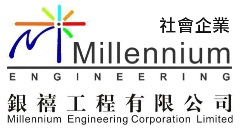 Our company engaged in air-conditioning engineering and maintenance services for 10 years, and has number of professional qualifications and certification.
Our Company also provides employment assistance and training programs to enable participants liked ex-offenders, ethnic minorities, new immigrants, etc., to obtain relevant knowledge and recognition of air-conditioning services. So that the participants learn some skills to be able to join the workforce again.
SE Information:
Name:
Millennium Engineering Corporation Limited
Address:
Unit 1001A, 10/F, South Seas Centre 1, 75 Mody Road, Tsim Sha Tsui East, KLN
Accept SE Gift Certificate:
Yes
Funding Source:
Asset injection from business field
Product and Service
Our major project on mind aims to recruit groups of youngster and volunteer to clean up the air-conditioners for the elderly and those in need.
At the same time, we will invite tutorials to educate the elderly and the community about the air-conditioning system and air quality. To strengthen the focus on the community, the living environment, and the impact on health.
Air conditioning works
To undertake large-scale air-conditioning installation and ventilation system installation works. Our one-stop service, from the design and order system to the construction procedures.
Maintenance and repair
We have a team of maintenance our team engaged in maintenance work for many years, understand the importance of maintenance work, we are familiar with air-conditioning maintenance and equip professional skills as soon as possible to deal with maintenance procedures and thus reduce the customer's troubles.
Cleaning
The team is very rigorous in the work of cleaning including the pre-protection work, washing the air-conditioning and maintenance procedures so that the air-conditioning life can be extended and power consumption can be decreased too.
Training; 「生命有TAKE TWO」Air Conditioning Engineering Colleague

To provide employment assistance and training programs to participants and thus they can get the relevant air-conditioning knowledge and accreditation qualifications. Therefore, they have skill, self-confidence and social power.
Volunteer service
We will contact other social service agencies and that can co-operate with other social organizations to educate participants on the knowledge and precautions of air-conditioners under the guidance of professional staff. Therefore, participants and volunteers can provide services for the elderly and needy service for free.