Innovate . Invest . Incubate
MY PLACE
About Us: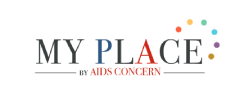 MY PLACE is a social enterprise project run by the charity, AIDS Concern. It provides professional and affordable sexual health services such as PrEP medical check-up and prescription, HIV self-test, sexually transmitted infection screening and medication, sexual health and intimate relationship related counselling, professional workshops of sexuality education, sexual health products recommendation.
MY PLACE aims to fill the service gap in Hong Kong and take care of the needs of people with different sexual orientation. We hope to bring quality sexual health service with affordable prices. All proceeds will be used to support the HIV prevention and community education work of AIDS Concern.
SE Information:
Address:
Flat A, 3/F, Fu Lee Commercial Building, 14 – 20 Pilkem Street, Jordan, KLN
Product and Service
1. Get Tested
MY PLACE provides sexual health-related examination services. In addition to coming to the testing center to submit samples and an appointment with a doctor, service user can choose to purchase an easy-to-use and safe and reliable home self-test kit to conduct the test on their own.
2. Counselling and Advice
My COACH is a social enterprise offering comprehensive sex & sexual related psychiatric and psychological counselling service in Hong Kong. The core service included mental health, identity development, relationship/ Couple and Sexual dysfunction & sexual pleasure enhancement.
MY LIFE SKILLS provides positive sexuality education to young people under the age of 25 through outreach activities, sexual health workshops, group and peer programs, and online platforms. Besides, we also provide professional training and support to social workers, teachers, and parents who are interested in promoting sexual health education to young people.